June 15, 2014
Australia's Standard of Living to Drop 8 Percent by 2030, According to Accenture
Unless government acts to develop jobs and skills that address changing labor market

CANBERRA; June 15, 2014 – Australia's standard of living, defined as real GDP per capita, is in danger of declining by as much as 8 percent over the next 15 years unless the government addresses structural changes in the post-mining economy, the dislocation of jobs in several key industries, the employment skills gap and an aging workforce, according to a new report by Accenture (NYSE:ACN).

The Accenture report, For Richer, For Poorer? Government's Role in Preserving Standard of Living, suggests that changing demographics are responsible for several challenges straining the financial and human resources used to measure standard of living. As outlined in the report, workforce participation would need to increase by .31 percent per year, and productivity growth would need to climb .4 percent annually to simply maintain the current standard of living by 2030 (see chart below). Yet, according to the Australian Bureau of Statistics, the proportion of employed working age adults has decreased by .7 percent over the last two years.1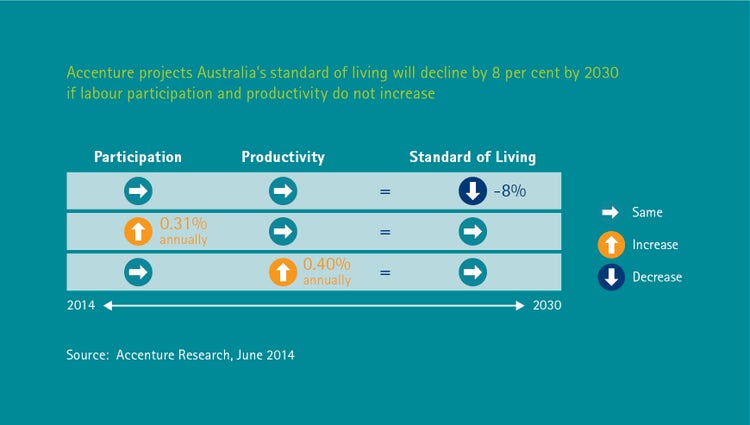 "To its credit, the Australian government has recognized the challenges in the labor market, and has undertaken policy initiatives, such as the Core Skills for Work Development Framework2 and the National Workforce Development Strategy3, to address these issues," said Catherine Garner, who leads Accenture's Health & Public Service work in Australia. "But, as we continue to face declining productivity growth and a shrinking demographic workforce, we need to continue to build on these efforts by taking concerted and decisive actions."

Key Survey Findings: Citizens, Jobseekers, Employers and Public Employment Service Officials
Accenture also surveyed citizens, employers, jobseekers and public employment service officials and found growing dissatisfaction with government:
About two-thirds (63 percent) of citizens surveyed do not believe government can act quickly enough to address employment and skills issues, and less than half (44 percent) of employers are confident government is doing enough to support job creation.
While 63 percent of employers have some contact with employment services, nearly a third (30 percent) have no contact at all and only 15 percent said they are the best sources on suitable job candidates.
Nearly one third (32 percent) of jobseekers said they need a fair amount or great deal of training to acquire the skills required for the jobs they seek and just 11 percent are willing to relocate to another territory or state for work.
About 41 percent of public employment service officials surveyed consider a lack of engagement with the business community a key challenge and 22 percent report a lack of contact with educational institutions as a major obstacle.
Accenture research and independent studies show that Australia faces four major challenges in addressing the threat to standard of living:
Geographic job dislocation. Dislocation of work for certain industries, including car manufacturing and mining, and unemployment and job vacancy rates across the country, make it difficult for people to find gainful employment. In 2013, unemployment rates in Tasmania (6.7 percent) and South Australia (7.4 percent) were twice as high as in the Australia Capital Territory (3.4 percent) and Northern Territory (3.7 percent). That same year, New South Wales reported the lowest proportion of vacancies filled at 66 percent, with South Australia reporting the highest proportion at 81 percent4. The rise of "Fly-In-Fly-Out" work practices, where people live and work in different locations, has helped fill some positions, but a part-time or under-employed workforce doesn't address long-term employment needs5.
Barriers to entry. Lack of work experience, over-qualification, unwillingness to relocate to another state or territory, and lengthy commutes create barriers to entering the workforce, particularly among women and those between the ages of 18 and 24 years. During 2013, only about half (47.8 percent) of indigenous Australians were employed, compared to 75.6 percent of non-indigenous people6.
Mismatch between skills and jobs. A mismatch between needed and available skills affects participation rates and productivity levels. Although recent gains have been made, 44 percent of jobseekers surveyed by Accenture said they were unable to find opportunities that match their skills and capabilities.
Volatile business environments. Reducing hours rather than laying off workers helped Australia survive the 2008-2009 global financial crisis. Still, half of Australian employers surveyed said there is too much regulation in the labor market, citing laws related to hiring and firing processes.
Achieving World Class Labor Markets
According to the report, government leaders who can create world-class labor markets will help reverse declining standards of living. A new comprehensive approach is needed to address Australia's labor market challenges and deliver a more vibrant jobs and skills environment. Specifically, government and business leaders need to be:
Transparent and insight driven – Leverage Labor Market Intelligence with all relevant stakeholders, driving transparency and information sharing.
Connected and Collaborative – Digitally enabled collaboration fosters a greater understanding of each stakeholder's role.
Flexible and accessible – Labor markets with the flexibility to rapidly adapt to the dynamic nature of business cycles will drive productivity.
"High performing labor markets can be defined as those with the flexibility to rapidly adapt to the inherently dynamic nature of business cycles. A government that shifts from a public management to public entrepreneurship model will be better positioned to adjust to new demands," Garner added.

Methodology
Accenture analyzed trends related to demographics, workforce participation rates and productivity in 162 countries. Together, these factors add up to gross domestic product (GDP) per capita, used as the measure of standard of living. Given that most countries' long-term productivity growth rate is trending toward zero percent, the base scenario assumes that productivity and participation growth rate is maintained at zero. Accenture estimates that in the sample of countries studied, standard of living – defined as real GDP per capita – is set to fall between 4 percent and 12 percent by 2030. Accenture also conducted surveys with citizens, employers, jobseekers and public employment officials in 11 countries (Australia, Brazil, Canada, France, Germany, India, Italy, Japan, Singapore, the United Kingdom and the United States), with additional interviews in 12 U.S. states (California, Florida, Illinois, Indiana, Massachusetts, Michigan, Minnesota, New York, North Carolina, Ohio, Texas and Washington) and the Canadian province of Ontario. These surveys provide a comprehensive view on the jobs and skills environment. Ipsos Mori and MGuire Research Services executed the surveys between September and November 2013.

Accenture's 2012 flagship study, Navigating the Shifts7 identified four profound structural shifts—moving from standardized to personalized services, reactive to insight driven, public management to public entrepreneurship, and piecemeal efficiency to mission productivity. Organizations doing this are delivering public service for the future—supporting a flourishing society, safe and secure nation and economic vitality for citizens.

Learn more about Delivering Public Service for the Future.

About Accenture
Accenture is a global management consulting, technology services and outsourcing company, with approximately 289,000 people serving clients in more than 120 countries. Combining unparalleled experience, comprehensive capabilities across all industries and business functions, and extensive research on the world's most successful companies, Accenture
collaborates with clients to help them become high-performance businesses and governments. The company generated net revenues of US$28.6 billion for the fiscal year ended Aug. 31, 2013. Its home page is www.accenture.com.

# # #

Contacts:

Georgia Hewett
Accenture
+ 61 417 699 567
georgia.hewett@accenture.com


Joanne Veto
Accenture
+ 703 963 4212
Joanne.m.veto@accenture.com

Footnotes and Sources:
[1] Australia Bureau of Statistics - Labour Force, Australia, Apr 2014
2 "Core Skills for Work Development Framework, Commonwealth of Australia, 2013
3 National Workforce Development Strategy, Australian Workforce and Productivity Agency, July 2012
4 Australian Bureau of Statistics, Labour Force Commentary, February 2014, http://www.abs.gov.au/AUSSTATS/abs@.nsf/Previousproducts/6202.0Main%20Features2Feb%202014?opendocument&tabname=Summary&prodno=6202.0&issue=Feb%202014&num=&view=
5 Australia Department of Education, Employment and Workplace Relations, Skill Shortages Australia 2013, published 2014, http://docs.employment.gov.au/system/files/doc/other/skillshortagesaustralia2013.pdf\\ 6 Australian Bureau of Statistics, Towns of the mining boom, Australian Social Trends, April 2013,
7 Australian Government, Indigenous employment rates, 2008 and 2012/13, http://www.indigenous.gov.au/economic-participation/indigenous-employment-rates-2008-and-201213/