February 13, 2014
Accenture Positioned as a Leader in an IDC MarketScape Worldwide Life Sciences Manufacturing and Supply Chain Vendor Assessment on Strategic Consulting

NEW YORK; February 13, 2014 – Accenture (NYSE:ACN) is positioned as a Leader in an IDC Health Insights vendor assessment covering strategic consulting across the life sciences manufacturing and supply chain industry.
The report, "IDC MarketScape: Worldwide Life Science Manufacturing and Supply Chain Strategic Consulting 2013 Vendor Assessment" (#HI244494), provides an assessment of the life science manufacturing and supply industry and market trends, comparing major vendors and assesses the criteria that are most important for life science companies to consider when selecting a service provider.

For the purposes of this analysis, IDC Health Insights divided potential key measures for success into two primary categories: capabilities and strategies.The assessment includes client references. A total of 13 vendors participated in the vendor assessment.

"We are happy to be recognized again as a Leader by IDC Health Insights, this time in its worldwide life sciences manufacturing and supply chain vendor assessment on strategic consulting," said Hussain Mooraj, global managing director of Accenture's Life Sciences Enterprise and Supply Chain practice said.

Accenture has also been positioned as a Leader in three other recent IDC MarketScapes. These are:
In naming Accenture as a Leader, the IDC MarketScape stated, "Relative to other vendors discussed in this report, and based on feedback from multiple customer references, Accenture received extremely high marks in project management and life science industry expertise."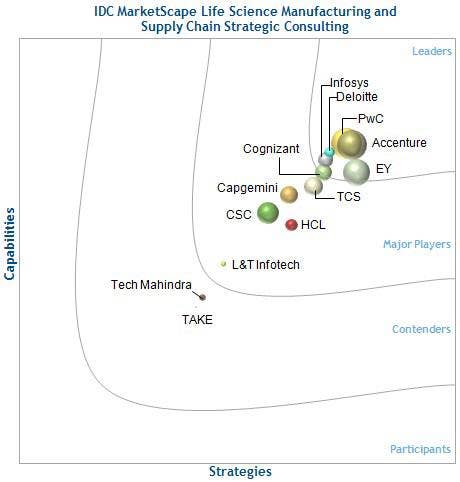 Source: IDC Health Insights, 2013
The IDC MarketScape Capabilities score measures vendor product, go-to-market and business execution in the short-term. The Strategy score measures alignment of vendor strategies with customer requirements in a 3-5-year timeframe. Vendor market share is represented by the size of the circles. Vendor year-over-year growth rate relative to the given market is indicated by a plus, neutral or minus next to the vendor name.


Click here to learn more about Accenture's Life Sciences practice.

About IDC MarketScape
IDC MarketScape vendor analysis model is designed to provide an overview of the competitive fitness of IT, telecommunications, or industry-specific suppliers in a given market. The research methodology utilizes a rigorous scoring methodology based on both qualitative and quantitative criteria that results in a single graphical illustration of each vendor's position within a given market. IDC MarketScape provides a clear framework in which the product and service offerings, capabilities and strategies, and current and future market success factors of IT, telecommunications, or industry-specific vendors can be meaningfully compared. The framework also provides technology buyers with a transparent foundation to allow companies to independently compare the strengths and weaknesses of current and prospective vendors.

About Accenture
Accenture is a global management consulting, technology services and outsourcing company, with approximately 281,000 people serving clients in more than 120 countries. Combining unparalleled experience, comprehensive capabilities across all industries and business functions, and extensive research on the world's most successful companies, Accenture collaborates with clients to help them become high-performance businesses and governments. The company generated net revenues of US$28.6 billion for the fiscal year ended Aug. 31, 2013. Its home page is www.accenture.com

# # #

Contacts:

Cam Granstra
Accenture
+ 312 693 5992
cameria.l.granstra@accenture.com

Anthony Hatter
Accenture
+44 7810 756 138
anthony.hatter@accenture.com