February 24, 2014
Accenture Launches Mobile Wallet Platform with Integrated Advanced Analytics for Insight-Driven Customer Offers


Robust, modular platform supports enhanced digital commerce ecosystem with mobile payments and targeted marketing capabilities

Mobile World Congress, BARCELONA; Feb. 24, 2014 – Accenture (NYSE: ACN) has launched a new Mobile Wallet platform that features integrated advanced analytics and big data capabilities, recommendation tools and security elements to provide a robust, modular platform for a trusted digital payments ecosystem that Accenture clients can operate for enhanced customer services.
In a leap towards making traditional physical wallets obsolete, the Accenture Mobile Wallet platform allows end-users to manage and operate all their cards, including credit, debit, transport, loyalty and gift cards. The Accenture Mobile Wallet also manages all proximity transactions and payments, which can be made through Near Field Communications (NFC) technology or QR codes, with the relevant enabled cards presented at compatible Points of Sales. In addition, the Accenture Mobile Wallet allows users to send money to other users or future users, reducing the need for any other tools in financial transactions.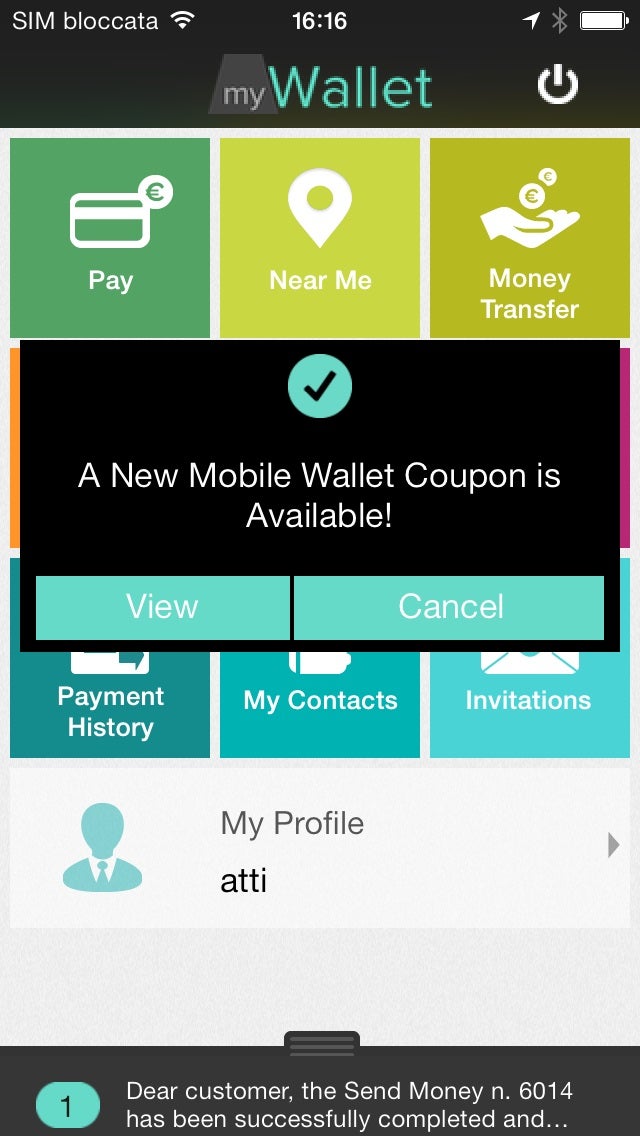 Notifications arrive based on location data

"The key to a vibrant, viable digital commerce ecosystem is a robust platform to underpin its operations," said Jin Lee, global managing director, Accenture Mobility. "This platform will help our clients – be they banks, mobile operators, merchants or a partnership of them all – to understand which offers to extend to which consumers and when. The platform then provides the functionality with which to pay for those offers, while gathering data to continue the learning and relationship-building process with that individual."
Make payments directly from the smartphone

Building on the existing solution, the Accenture Mobile Wallet platform now includes the Accenture Recommendation Engine, an integrated big data solution developed by Accenture Interactive and delivered via the cloud or on-premise through Accenture Analytics
,
which offers personalised recommendations to customers in real time. With an extensive library of machine learning algorithms, the engine enables businesses to easily and seamlessly filter recommendations based on predefined business and merchandising rules. This will automatically suggest which offer should be presented to customers, based on advanced analytics performed on buyer identification data at the point of interaction, such as when they enter a geo-fenced store's perimeter.

With Bluetooth® Low-Energy Beacons integrated to further increase the granularity of those geo-fences, merchants will be able to define keywords attached to zones in-store, contact the Accenture Mobile Wallet and find out the preferred offers related to that zone. The Accenture Recommendation Engine then tailors that offer according to existing user data and their registered preferences for its use, to deliver the most relevant offer directly to the consumer's device via the Accenture Mobile Wallet.

In addition to a front-end design overhaul, extensive API exposure of all major platform modules, and availability of the solution on all major mobile OS's, other significant upgrades to the platform include:
Trusted Service Manager – This allows banks or other service providers to dynamically and securely send and personalise smartcard applications. A newly requested debit card can be seamlessly installed with all relevant details saved in the secure zone of a device, ready for use in minutes. This tool also allows for remote removal, blocking and other status actions related to cards stored, in order to protect the user in cases of lost or stolen devices.
Push Payment Functionality – Reversing the status quo, this puts the power of payment with the consumer, building confidence in digital payments as they no longer need to share account data with merchants. Instead, users can 'check out' by 'pushing' the money to the merchant before goods are released, as opposed to the 'pull' payments typically in use. This will also help remove the risk to merchants of chargebacks or lack of funds, as the user must make the money available.
Accenture Customer Insight integration – This enables insights and analytics of the wallet users, including custom segmentations based on campaign behaviours and offer preferences for targeting. Using business intelligence tools for dashboards and reporting, businesses and merchants will be able to move rapidly from insights to real time campaigns executed via the mobile wallet.
"For many, digital commerce still has barriers to adoption, and a robust, modular platform like the Accenture Mobile Wallet is just what an enhanced payments ecosystem needs to take off," said Robert Hasson, managing director of digital commerce, Accenture Mobility. "There are many pieces of the puzzle to bring together to help ensure that end users are confident in mobile payments technology itself, as well as verifying that merchants, banks and other stakeholders are able to work together in a productive ecosystem to add value for each other. The Accenture Mobile Wallet integrates advanced analytics capabilities and confidence-building tools that can make digital commerce a more valuable and productive asset for everyone, especially the customer, who will receive more relevant, targeted offers than ever before, direct to their device."

The new Accenture Mobile Wallet platform is available for demonstration at Mobile World Congress with an appointment. Please contact joanna.r.vos@accenture.com to arrange this. You can also come and visit Accenture Mobility in Hall 1, Stand 1C26.

About Accenture
Accenture is a global management consulting, technology services and outsourcing company, with approximately 281,000 people serving clients in more than 120 countries. Combining unparalleled experience, comprehensive capabilities across all industries and business functions, and extensive research on the world's most successful companies, Accenture collaborates with clients to help them become high-performance businesses and governments. The company generated net revenues of US$28.6 billion for the fiscal year ended Aug. 31, 2013. Its home page is www.accenture.com.

Accenture Digital, comprised of Accenture Analytics, Accenture Interactive and Accenture Mobility, offers a comprehensive portfolio of business and technology services across digital marketing, mobility and analytics. From developing digital strategies to implementing digital technologies and running digital processes on their behalf, Accenture Digital helps clients leverage connected and mobile devices; extract insights from data using analytics; and enrich end-customer experiences and interactions, delivering tangible results from the virtual world and driving growth. Learn more about Accenture Digital at www.accenture.com/digital.

# # #

Contact:

Joanna Vos
Accenture
+ 44 7500 835588
joanna.r.vos@accenture.com

Copyright © 2014 Accenture. All rights reserved. Accenture, its logo, and High Performance Delivered are trademarks of Accenture. This document is produced by consultants at Accenture as general guidance. It is not intended to provide specific advice on your circumstances. If you require advice or further details on any matters referred to, please contact your Accenture representative.