June 12, 2013
U.S. Retail Health Clinics Expected to Double by 2015, According to Accenture


Increase driven by millions of newly insured due to healthcare reform; clinics projected to save $800 million annually
LAS VEGAS; June 12, 2013 – The number of U.S. retail health clinics is projected to double in the next three years due to the increasing demand of newly insured patients under healthcare reform, according to a new report released today by Accenture (NYSE:ACN) at the annual America's Health Insurance Plans (AHIP) Institute 2013 in Las Vegas.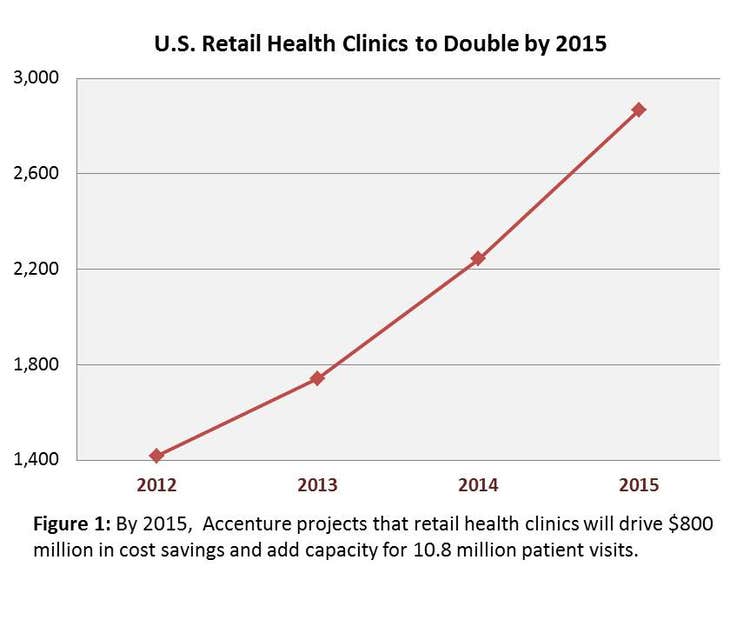 The report shows that the growing number of retail health clinics walk-in medical facilities located in pharmacies and retail chains, is expected to drive $800 million in annual cost savings by 2015 and will add capacity for 10.8 million patient visits per year, compared to 5.1 million in 2011. In fact, according to Accenture's analysis, the number of patient visits at retail clinics is projected to account for 10 percent of non-primary care outpatient visits by the end of 2015.

"Despite that initial growth of retail clinics was halted short of market expectations in 2009, healthcare reform will trigger a significant demand from millions of newly insured patients," said Kaveh Safavi
,
M.D., J.D., managing director for Accenture's North America health business. "The convergence of retail convenience with walk-in care services will provide a 'release valve' for strained health systems as they handle the influx of new patients."

Historically, retail clinics experienced a five-year trend of rapid growth from 2003-2008, ranging from 50-92 percent annually during that time. However, growth in the sector stalled, falling to just 2 percent per year from 2008-2012.

According to Accenture's report, the number of retail clinics is expected to increase 20-25 percent per year between now and 2015 and double from 1,418 to 2,868 clinics in that time period.

"Although primary care physicians and hospitals once regarded retail clinics as a business threat, in a post-reform landscape, they are viewed as critical to facilitating future growth," Safavi added. "In fact, retail clinics will reduce capacity constraints by referring lower-acuity patients to clinics while ensuring hospitals have capacity for more complex cases."

Learn more about Accenture's Insight Driven Health and Delivering Public Service for the Future.

About Accenture
Accenture is a global management consulting, technology services and outsourcing company, with approximately 261,000 people serving clients in more than 120 countries. Combining unparalleled experience, comprehensive capabilities across all industries and business functions, and extensive research on the world's most successful companies, Accenture collaborates with clients to help them become high-performance businesses and governments. The company generated net revenues of US$27.9 billion for the fiscal year ended Aug. 31, 2012. Its home page is www.accenture.com.

# # #

Contact:

Jenn Francis
Accenture Health
+ 630 338 6426
jennifer.francis@accenture.com