March 13, 2013
Postal Agencies Diversify to Fight Volume Decline, 24-Country Accenture Study Shows
Research finds little success with digital mail, but increasing parcel business

MADRID, Spain; March 13, 2013 – Faced with a nearly 50-billion piece decline in global mail volume over the past three years, rising employee pension costs and increasing competition from private, commercial postal operators, the world's postal agencies are fighting back by diversifying services and leveraging technology, according to a new study from Accenture (NYSE:ACN).
Achieving High Performance in the Postal Industry: Accenture Research and Insights 2013 identifies two new trends for the industry: digital mail has not reinvigorated postal agencies as originally expected and private postal operators have become more aggressive, creating greater competition for postal agencies in both the mail and parcel business. Postal agencies in 24 countries and two commercial companies – FedEx and United Parcel Service (UPS) – are included in the study.
"Despite a continued tumultuous business climate, some postal organizations are thriving. They are launching new business lines, combining their products with new technology and radically changing their cost structures to be leaner and more agile. As these posts reinvent their business models, they are emerging as very different organizations that are well positioned for future growth," said Brody Buhler, managing director for Accenture's global postal industry practice.
The 2013 research was presented at the European Postal Services Conference here. The 16 largest postal agencies included in the research represent nearly 75 percent of the world's mail volume.
Since the publication of its first high performing posts report in 2006, Accenture has conducted ongoing, in-depth research of the postal industry. Using the Accenture High Performance Business methodology, Accenture has reviewed and assessed the relative performance of postal organizations. Starting with the postal systems of 16 countries and extending that research to include 24 posts and two commercial companies in 2013, the study gives a comprehensive review of what drives high performance in postal agencies.
The 2013 research shows little movement since 2012 in the top 10 postal agencies, with the exception of Norway, which jumped five positions to seventh place and Finland, which dropped eight slots to 15th place in the 2013 study. The top 10 highest performing posts, according to the Accenture research, are Singapore Post, United Parcel Service (UPS) (USA), Austria Post, Poste Italiane (Italy), Australia Post, FedEx (USA), Posten Norge (Norway), bpost (Belgium), TNT (Netherlands) and Correios Brasileiros (Brazil). According to the research, the bottom five postal organizations are straddled with large legacy costs and limited diversification, often due to regulatory or legislative limitations: PostNord (Sweden and Denmark), Magyar Posta (Hungary), Japan Post, Correos (Spain) and the U.S. Postal Service.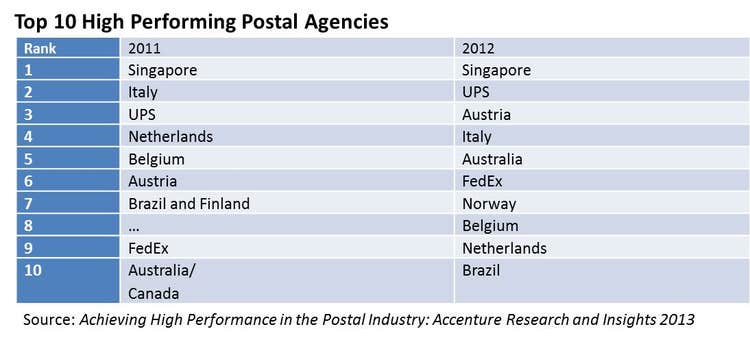 Key Findings
Digital mail: No postal operator has seen real value or positive financial impact from the expansion of digital mail. None of the digital solutions currently in the market have resulted in significant profit nor achieved broad adoption.
Parcels and logistics: Postal agencies, driven by continuing eCommerce growth, have grown their parcel delivery capabilities and diversified services to move into logistics to meet demand. This growth also is creating more opportunities for private carriers.
Retail diversification: While some postal operators are questioning how to leverage their retail outlets, high-performing posts are branching out beyond stationery, office supplies and greeting cards into convenience products that include bill payment centers, motor vehicle registration, passports and other government services.
Pricing and product innovation: Using technology to add value to traditional mail and taking advantage of pricing flexibility are having a positive impact on the industry, driving revenue growth an average of 1.5 percent annually.
Cross-border eCommerce: Posts are starting to take advantage of this new trend, expanding beyond domestic delivery to surrounding countries and regions, and developing solutions for this new market
Consumer focus: Postal agencies are creating new services that focus on the recipient – and not the sender – of mail, including narrower windows of delivery or the ability to redirect a parcel delivery to a new location. These services are giving consumers more control over package deliveries and providing postal agencies with a new revenue source.
Country Comparisons
Posts around the world are finding ways to gain traction in the marketplace, transforming products with innovation and technology:
Canada Post Corp.'s new online service, Precision Targeter, is a self-service tool that is used to prepare and send unaddressed advertising mail.
Itella's NetPosti, which sends digital scans of printed mail to its customers in Finland, grew volume 700 percent between 2005 and 2010.
Correios Brasileiros (Brazil Post) partnered with Banco do Brasil to provide financial services. Six thousand post offices are connected to the internet and offer financial services.
U.S. Postal Service Every Door Direct Mail allows small businesses to target mail by neighborhood, ZIP Code or city instead of specific addresses. The program generated $153 million in new revenue in the first eight months and is projected to reach $1 billion by 2016.
Australia Post leverages its 4,500 retail outlets across the country by offering bill payments and passport applications, and accepts payment for government services that include motor vehicle registrations and fishing licenses.
Poste Italiane (Italy) offers financial services, telecommunications services and expanded retail products through its outlets.
bpost's (Belgium) RelatioMail has increased the value of transactional mail to consumers through redesign of the mail piece.
Methodology
Twenty six postal agencies and commercial logistics companies were analyzed, including the U.S.-based, private-sector companies, FedEx and United Parcel Service (UPS). "Achieving High Performance in the Postal Industry: Accenture Research and Insights 2013" consists of analysis based on 2012 publicly available information, content published by the postal organizations and Accenture industry knowledge and experience.
Learn more about Accenture's work with posts around the world and its global initiative, Delivering Public Service for the Future.
About Accenture
Accenture is a global management consulting, technology services and outsourcing company, with 259,000 people serving clients in more than 120 countries. Combining unparalleled experience, comprehensive capabilities across all industries and business functions, and extensive research on the world's most successful companies, Accenture collaborates with clients to help them become high-performance businesses and governments. The company generated net revenues of US $27.9 billion for the fiscal year ended Aug. 31, 2012. Its home page is www.accenture.com.
# # #
Contacts:
Joanne Veto
Accenture
+ 703 947 2590
+ 703 963 4212 (mobile)
José Luis Sánchez
Accenture
+ 34 91 5966585
+ 34 609047138 (mobile)