December 10, 2013
One-in-Four Employees Choose Lower-Priced Health Plan via Private Insurance Exchanges to Decrease Premiums, According to Accenture Research

ARLINGTON, Va; Dec. 10, 2013 – For the millions of U.S. employees starting new health plans on Jan. 1, 2014, new research by Accenture (NYSE:ACN) suggests that as many as one-in-four individuals, who enrolled online through private insurance exchanges, selected lower coverage levels than their employer previously offered to decrease their monthly premiums. And the majority (57 percent) of those who select lower-priced health plans will buy ancillary benefits, such as vision coverage or even pet insurance, using their allocated leftover funds.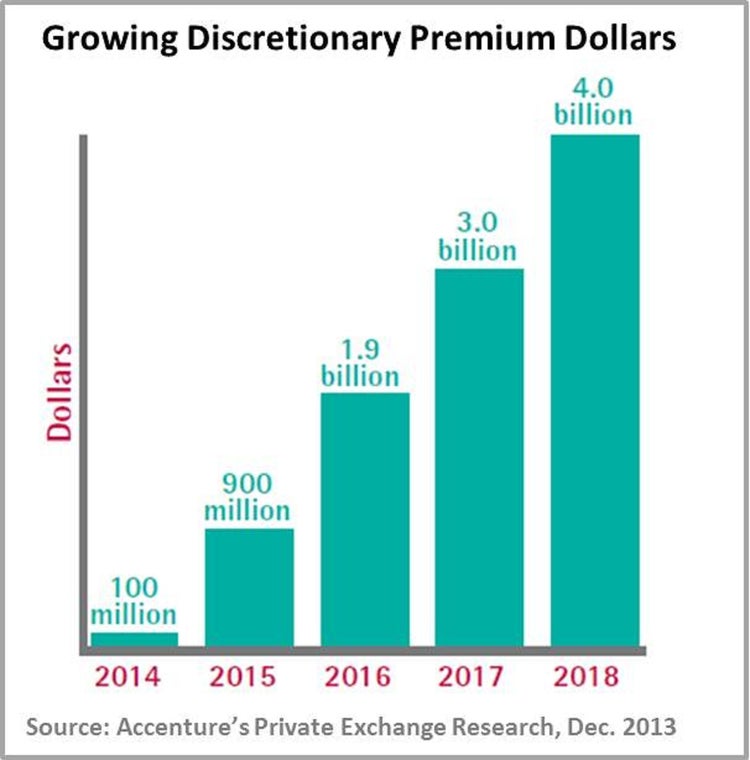 "Private exchanges represent a significant opportunity for consumers to personalize their health benefit options," said Rich Birhanzel, managing director, Accenture Health Administrative Services. "However, to make more informed decisions, consumers need a better understanding of the complex tradeoff decisions that are part of the enrollment process, such as weighing individual medical risks against personal financial circumstances. Without that knowledge, consumers will be more likely to face higher costs that could potentially arise from unexpected incidents and treatment needs."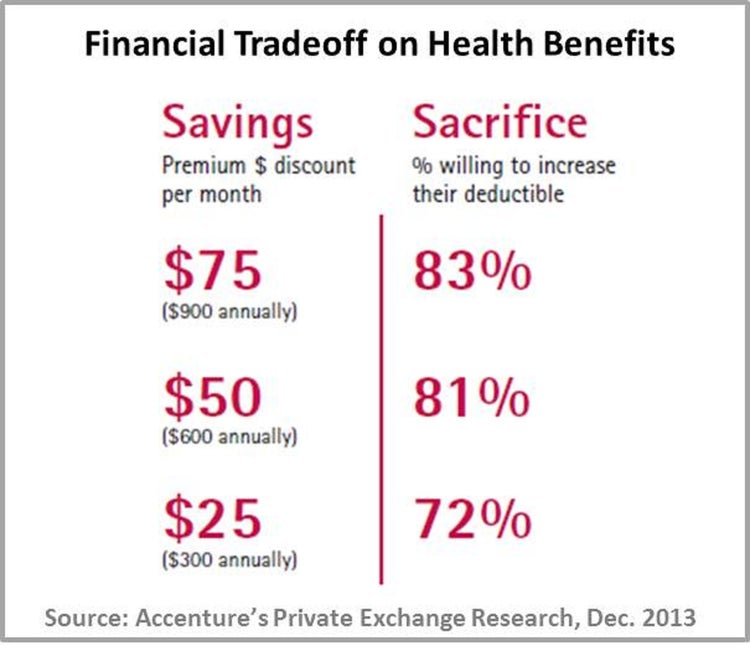 While employees are willing to make some tradeoffs in return for lower premiums, Accenture's research indicates that their willingness will depend on the availability of other options. For example, an Accenture survey of more than 2,000 U.S. consumers showed that 81 percent of employees would be willing to increase their deductible to save $50 a month on their premiums. However, only 25 percent of employees surveyed would be willing to accept more than a $600 deductible increase to save $600 in annual premiums.

Although, historically, most employers have offered only one health plan, such as an HMO or PPO, the rapid emergence of private insurance exchanges – which Accenture estimates will grow to 40 million enrollees by 2018 – will expand benefit choices and fuel the purchasing of ancillary benefits through a new pool of discretionary premium dollars, the annual amount an employer allocates for each employee's insurance that can be used for ancillary benefits or other options, after the cost of the health plan premium is covered. Accenture estimates this new pool of discretionary premium dollars will grow to $4 billion by 2018.

Learn more about Accenture's Insight Driven Health, Accenture Health Administration Services and Delivering Public Service for the Future.

Methodology
The research report results from extensive Accenture analysis of current market demand and an online survey of 2,006 U.S. consumers between the ages of 18 and 64 who receive group health insurance through their employer. The survey was fielded Oct 25-31, 2013.

About Accenture
Accenture is a global management consulting, technology services and outsourcing company, with approximately 275,000 people serving clients in more than 120 countries. Combining unparalleled experience, comprehensive capabilities across all industries and business functions, and extensive research on the world's most successful companies, Accenture collaborates with clients to help them become high-performance businesses and governments. The company generated net revenues of US$28.6 billion for the fiscal year ended Aug. 31, 2013. Its home page is www.accenture.com.
# # #


Contact:

Jenn Francis
Accenture Health
+ 630 338 6426
jennifer.francis@accenture.com