March 04, 2013
Most U.S. Doctors Believe Patients Should Update Electronic Health Record, but Not Have Full Access to It, According to Accenture Eight-Country Survey
NEW ORLEANS; March 4, 2013 – A new Accenture (NYSE:ACN) survey shows that most U.S. doctors surveyed (82 percent) want patients to actively participate in their own healthcare by updating their electronic health records. However, only a third of physicians (31 percent) believe a patient should have full access to his or her own record, 65 percent believe patients should have limited access and 4 percent say they should have no access (See figure 1). These findings were consistent among 3,700 doctors surveyed by Accenture in eight countries: Australia, Canada, England, France, Germany, Singapore, Spain and the United States.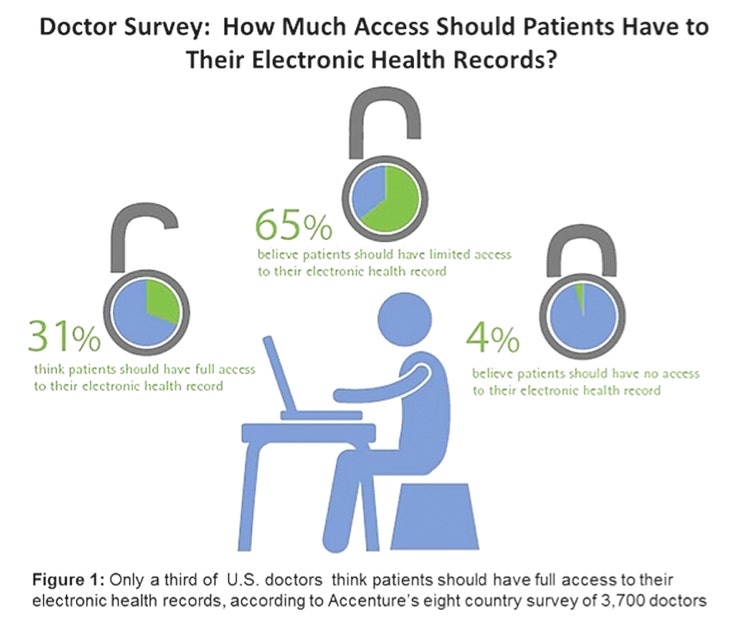 Patients Access to Records
While nearly half of U.S. doctors (47 percent) surveyed believe patients should not be able to update their lab test results, the vast majority believe patients should be able to update some or all of the standard information in their health records, including demographics (95 percent), family medical history (88 percent), medications (87 percent) and allergies (85 percent). And, the majority of doctors (81 percent) believe patients should even be able to add such clinical updates to their records as new symptoms or self-measured metrics, including blood pressure and glucose levels .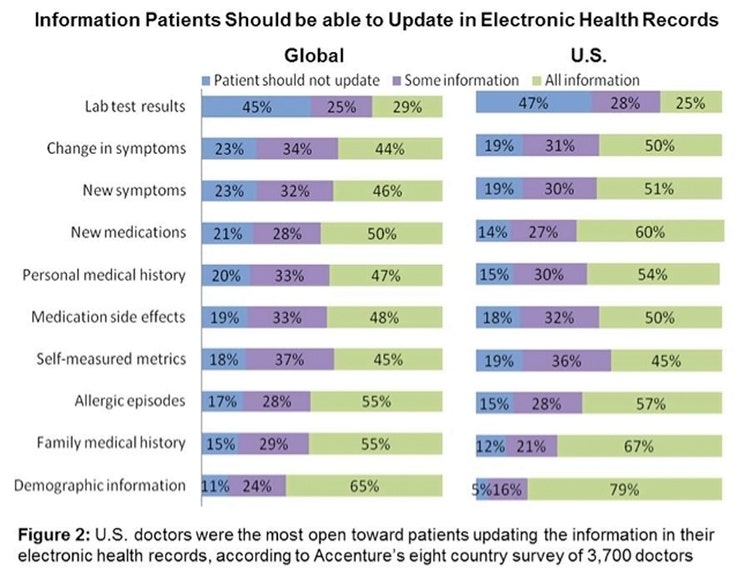 "Many physicians believe that patients should take an active role in managing their own health information, because it fosters personal responsibility and ownership and enables both the patient and doctor to track progress outside scheduled appointments," said Mark Knickrehm, global managing director of Accenture Health. "Several U.S. health systems have proven that the benefits outweigh the risks in allowing patients open access to their health records, and we expect this trend to continue."
In fact, nearly half of doctors surveyed (49 percent) believe that giving patients access to their records is crucial to providing effective care. But, only 21 percent of doctors surveyed currently allow patients to have online access to their medical summary or patient chart, the most basic form of a patient's record.
Perceptions of Electronic Health Records
More than half of doctors surveyed (53 percent) believe that the introduction of electronic health records has improved the quality of patient care, and the overwhelming majority (84 percent) say they are somewhat or strongly committed to promoting electronic records in their clinical practice. Most (77 percent) believe the right investments in adopting electronic records are being made and 83 percent believe they will become integral to effective patient care in the next two years.
Methodology
On behalf of Accenture, Harris Interactive conducted an online survey of 3,700 physicians across eight countries: Australia, Canada, England, France, Germany, Singapore, Spain and the United States. The survey included 500 doctors per country (200 from Singapore) and assessed the physicians' adoption, utilization and attitudes toward healthcare IT. The research was conducted between November 2012 and December 2012.
Learn more about Accenture's Insight Driven Health, Accenture Connected Health Services and Delivering Public Service for the Future.
About Accenture
Accenture is a global management consulting, technology services and outsourcing company, with approximately 259,000 people serving clients in more than 120 countries. Combining unparalleled experience, comprehensive capabilities across all industries and business functions, and extensive research on the world's most successful companies, Accenture collaborates with clients to help them become high-performance businesses and governments. The company generated net revenues of US$27.9 billion for the fiscal year ended Aug. 31, 2012. Its home page is www.accenture.com.
# # #
Contact:
Jenn Francis
Accenture
+ 630 338 6426
jennifer.francis@accenture.com
Joanne Giordano
Accenture
+ 703 919 1288