May 09, 2013
EMR and HIE Use Increases Among U.S. Doctors, Accenture Annual Survey Finds

ARLINGTON, Va; May 9, 2013 – The vast majority of U.S. doctors (93 percent) reported actively using electronic medical records (EMR) in an annual survey by Accenture (NYSE:ACN) of 3,700 physicians in eight countries: Australia, Canada, England, France, Germany, Singapore, Spain and the United States. And, showcasing the growing importance of health information exchange (HIE), nearly half (45 percent) of doctors surveyed said they regularly access clinical data outside their own organization, representing a 32 percent annual increase.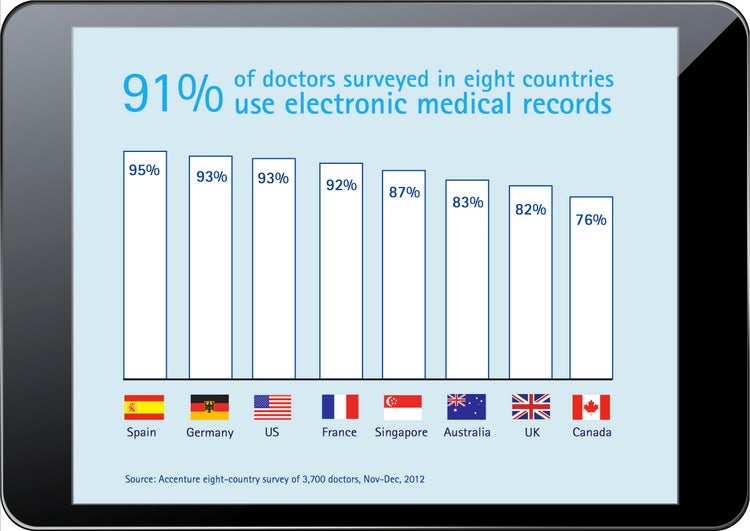 "U.S. doctors are increasingly embracing EMR and HIE, which enables virtual integration outside a single medical office," said Mark Knickrehm, Accenture's global managing director who leads the company's health business. "This growing trend strongly supports a patient-centered approach to care and reinforces the progress physicians are making as they prepare to meet the Meaningful Use guidelines required by the Affordable Care Act."

U.S. Doctors Leading Healthcare IT
Increasing their overall productivity, U.S. doctors also reported a 32 percent annual increase in the routine use of healthcare IT capabilities (see chart below) compared to an increase of 15 percent, among doctors in the other countries surveyed. Most significantly, U.S. doctors reported the ­­highest routine use of two IT capabilities: e-prescribing (65 percent) and entering patient notes into electronic medical records (78 percent), which represent a 34 percent annual increase.

U.S. physicians also have adopted healthcare IT for basic clinical tasks, such as receiving alerts while seeing patients (45 percent). Despite declining 6 percent globally, more than half of U.S. doctors (57 percent) reported regularly using electronic lab orders, representing a 21 percent annual increase. Most U.S. physicians surveyed (62 percent) also receive their clinical results, such as lab tests, directly into their EMR system, a 24 percent annual increase, which was slightly above the 54 percent average among all doctors surveyed.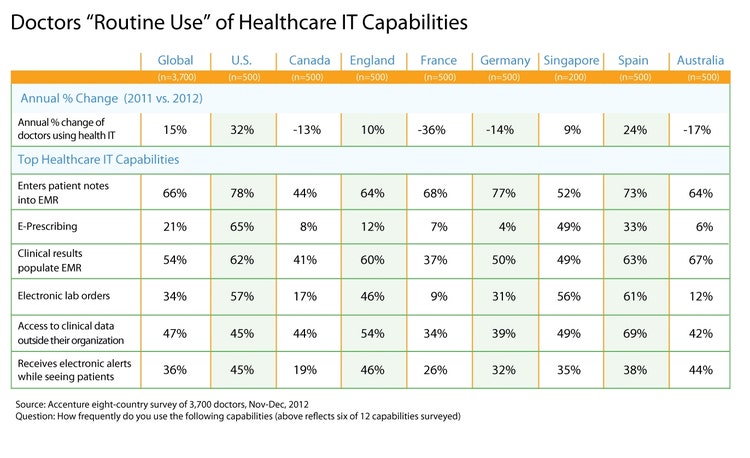 The majority of doctors in all countries reported that EMR and HIE have had a positive impact on their practice, such as reducing medical errors (76 percent) and improving the quality of data for clinical research (74 percent). However, U.S. doctors were the least likely (38 percent) to report that using EMR and HIE reduced their organization's costs. They also said that cost was the single greatest barrier to technology adoption.

Accenture's research findings are included in a U.S Country Profile and a summary report, The Digital Doctor is In.

Methodology
On behalf of Accenture, Harris Interactive conducted an online survey of 3,700 physicians across eight countries: Australia, Canada, England, France, Germany, Singapore, Spain and the United States. The survey included 500 doctors per country (200 from Singapore) and assessed the physicians' adoption, utilization and attitudes toward healthcare IT. The research was conducted between November and December 2012. The analysis provided comparisons by country, sector, age and use. The margin of error for the eight study countries in total is +/- 1.5 percent.

Learn more about Accenture's Insight Driven Health, Accenture Connected Health Services and Delivering Public Service for the Future.

About Accenture
Accenture is a global management consulting, technology services and outsourcing company, with approximately 261,000 people serving clients in more than 120 countries. Combining unparalleled experience, comprehensive capabilities across all industries and business functions, and extensive research on the world's most successful companies, Accenture collaborates with clients to help them become high-performance businesses and governments. The company generated net revenues of US$27.9 billion for the fiscal year ended Aug. 31, 2012. Its home page is www.accenture.com.

Accenture Connected Health Services
Through Accenture Connected Health Services, we help health systems improve collaboration and decision-making, while lowering costs, by delivering healthcare IT solutions that enable patient-centric care delivery and improve operating models. Our services combine extensive business and clinical practices with a full range of healthcare IT capabilities, including health information exchanges, electronic health records, population analytics, mobility and telehealth platforms.

# # #

Contact:

Jenn Francis
Accenture Health
+ 630 338 6426
jennifer.francis@accenture.com