November 06, 2013
Accenture holiday shopping survey reveals Canadians are "webrooming" and "showrooming" to save money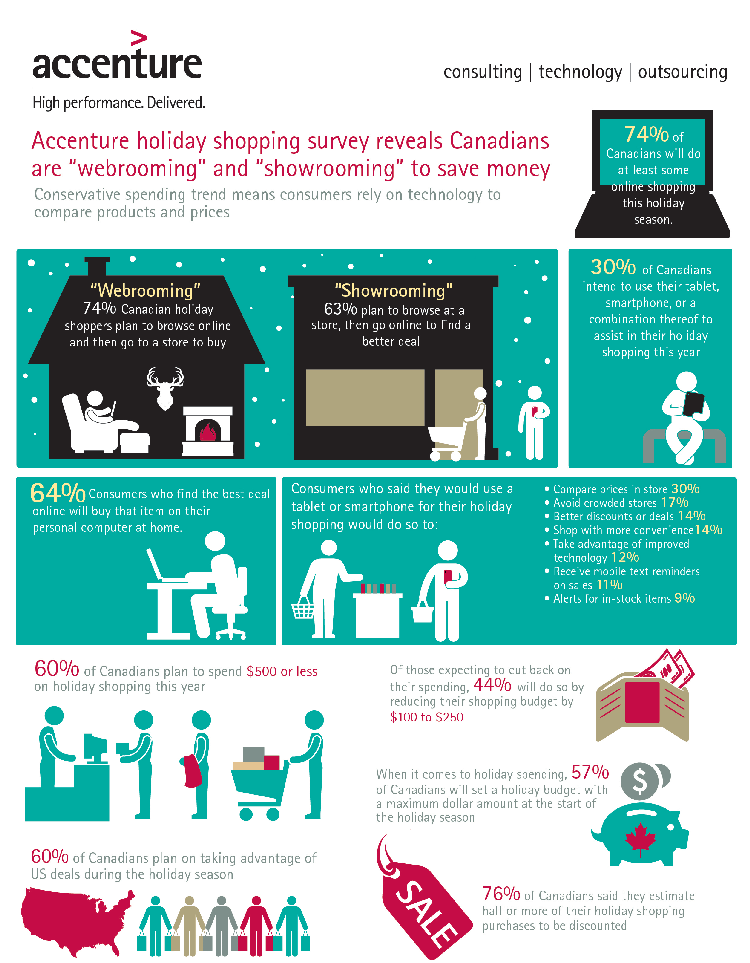 Conservative spending trend means consumers rely on technology to compare products and prices

TORONTO; Nov. 6, 2013 – The majority of Canadians will use their personal computers, tablets and smartphones as shopping tools this holiday season, an Accenture (NYSE:ACN) survey shows. Nearly three-quarters of Canadian holiday shoppers plan to "webroom", meaning they will research and review items online before purchasing them at a store. Nearly two-thirds (63 percent) will also engage in "showrooming," which means visiting a store to look for a gift and then buying it for the best price online.
Nearly one-third (30 percent) intend to use their tablet, smartphone, or a combination thereof to assist in their holiday shopping this year. Even so, consumers who find the best deal online will buy that item on their personal computer at home (64 percent). Consumers who said they would use a tablet or smartphone for their holiday shopping would do so to compare prices in store (30 percent); avoid crowded stores (17 percent); better discounts or deals (14 percent), shop with more convenience (14 percent); take advantage of improved technology (12 percent); receive mobile text reminders on sales (11 percent) and alerts for in-stock items (nine percent).

"More people are using smartphones as part of a seamless shopping experience to get immediate pricing and product information in the palm of their hands, while at home or in a store," said Kelly Askew, managing director, retail management consulting at Accenture in Canada. "That means Canada's retail sector is more competitive than ever before, and stores must have a robust online, mobile and social media strategy to capture holiday spending dollars."

The trend towards integrating web and store into holiday shopping ties closely with other consumer spending patterns identified in the survey. Most Canadians (81 percent) plan on spending the same amount or less on their holiday shopping this year than they did last year. Reasons for not spending more include a desire to keep the holidays simple and not too extravagant (46 percent), as well as economic conditions, such as a rise in living expenses (31 percent) and having less discretionary income (29 percent). Canadians surveyed cited concerns about rising food bills (34 percent), a desire to not increase credit card debt (31 percent) and gasoline prices (30 percent) as the main factors negatively affecting their holiday spending.

Almost two-thirds (60 percent) of Canadians plan to spend $500 or less on holiday shopping this year. Of those expecting to cut back on their spending, almost half (44 percent) will do so by reducing their shopping budget by $100 to $250. Additionally, when it comes to holiday spending, more than half of Canadians (57 percent) will set a holiday budget with a maximum dollar amount at the start of the holiday season.

According to those surveyed, the key shopping behaviors of consumers this holiday season include:
Online vs. retail store shopping: Nearly three-quarters of Canadians (74 percent) will do at least some online shopping this holiday season. Of these Canadians, more than a quarter (26 percent) will make at least half of their purchases online, rather than in retail stores. Canadians said they would buy more holiday gifts online if retailers offered free shipping (63 percent) and discounted items compared to in-store prices (56 percent).
Canadians plan on taking advantage of US deals this holiday season – in store and online: Almost two thirds (60 percent) of Canadians plan on taking advantage of US deals during the holiday season. Of those who plan on spending money with US retailers, 20 percent will only shop in-store south of the border, 30 percent will shop online only, and almost half (48 percent) plan to both shop online and in-store south of the border.
The importance of discounts: Sales and discount items are still important to consumers with over three-quarters (76 percent) of Canadians saying they estimate half or more of their holiday shopping purchases to be discounted. When shopping for the holidays, most Canadians will search for and buy discounted items, and 43 percent will decide what to buy and then search for a store offering it at a discount. Discounts of 20 percent of more are needed to persuade the majority of shoppers (86 percent) to buy.
Gift cards popular this season: Almost three-quarters of Canadians (74 percent) plan on purchasing a gift card this holiday season, with the majority (68 percent) buying the gift card in-store, and fewer (19 percent) planning to buy a gift card online. About half (47 percent) of all respondents plan to buy up to three gift cards.
About the survey
Accenture conducted an online survey using a representative sample of over 1200 Canadian consumers evenly distributed across Toronto, Calgary and Montreal in late September 2013. The survey is considered accurate 95 times out of 100, plus or minus three percent.

About Accenture
Accenture is a global management consulting, technology services and outsourcing company, with approximately 275,000 people serving clients in more than 120 countries. Combining unparalleled experience, comprehensive capabilities across all industries and business functions, and extensive research on the world's most successful companies, Accenture collaborates with clients to help them become high-performance businesses and governments. The company generated net revenues of US$28.6 billion for the fiscal year ended Aug. 31, 2013. Its home page is www.accenture.com.
# # #


Contact:

Theresa Ebden
Accenture
+ 647 622 8394
theresa.ebden@accenture.com