November 27, 2012
U.S. Consumers Value Healthcare Affordability, but Not Willing to Make Tradeoffs that Impact Healthcare Costs, Says Accenture Survey
ARLINGTON, VA; Nov. 27, 2012 – The majority of U.S. consumers (72 percent) who plan to join insurance exchanges said affordability is the top driver of their healthcare decisions, but only a small portion (30 percent) are willing to change doctors or healthcare settings to reduce costs, according to a new survey of 3,209 people by Accenture (NYSE:ACN).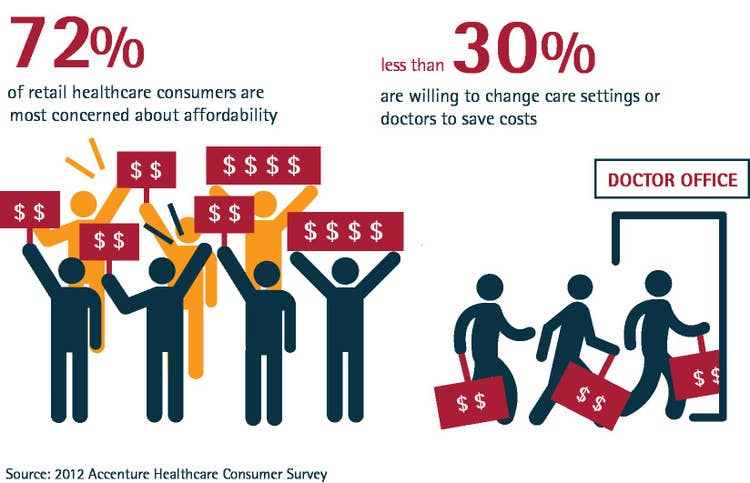 "Our research is particularly timely due to the increasing number of individually insured people who will join public- and private- health insurance exchanges," said Mark Knickrehm, who leads Accenture's global health business. "Under most health plans today, however, the benefit from consumers making cost-saving changes goes primarily to the insurer or employer. To help consumers make smart, cost-effective care decisions, insurers must incent consumers and clearly communicate the direct benefits by engaging them in ways that are relevant to them."
As the post-reform marketplace expands to 51 million individually insured consumers, Accenture found that health insurers will need to further differentiate their services and engage new customers – a task that could prove quite challenging considering consumer preferences for lower healthcare costs with little tradeoffs.
According to Accenture, while healthcare consumers seek low out-of-pocket healthcare costs, fewer than 20 percent of those surveyed understand the cost of their care in advance or feel they should track and budget healthcare expenses.
Other findings of consumers joining insurance exchanges:
Less than half of consumers are willing to change to generic prescriptions (43 percent); use a nurse practitioner instead of a doctor for routine visits (41 percent) or change their primary care doctor (23 percent).
Although 81 percent of subsidy eligible healthcare consumers report they want guidance to improve their health, 40 percent of these same consumers don't identify going to the doctor for regular checkups as a priority.
Only one out of the four consumers surveyed trust insurers to provide guidance on improving their health.
Methodology: 2012 Accenture Healthcare Consumer Survey
Accenture conducted an online survey of 3,209 individuals over 18 years of age in the United States. Insured members included Medicare, Medicaid, Group (defined benefit and defined contribution), Individual (purchased directly through insurer and purchased through broker), Uninsured Consumers (subsidy and non-subsidy eligible individuals) and small group of decision makers. The survey was conducted in June 2012. The analysis included advanced analytics to develop healthcare consumer segments that transcend traditional market/product segments.
Learn more about Accenture's Insight Driven Health.
About Accenture
Accenture is a global management consulting, technology services and outsourcing company, with 257,000 people serving clients in more than 120 countries. Combining unparalleled experience, comprehensive capabilities across all industries and business functions, and extensive research on the world's most successful companies, Accenture collaborates with clients to help them become high-performance businesses and governments. The company generated net revenues of US$27.9 billion for the fiscal year ended Aug. 31, 2012. Its home page is www.accenture.com.
# # #
Contact:
Jennifer Francis
Accenture
+ 630 338 6426