June 13, 2012
Most Countries Need Major Changes in Systems for Sourcing and Consuming Energy to Support Future Demand Growth, Reports Accenture and World Economic Forum
Framework developed to help decision-makers assess, plan and support transition to future energy requirements
NEW YORK, June 13, 2012 – The continued increase in energy consumption, which is expected to grow by approximately 40 percent by 20351,will require significant changes in countries' energy architectures as they try to meet the demands of economic growth, environmental sustainability and energy security, finds a joint report by Accenture (NYSE: ACN) and the World Economic Forum.
The report, New Energy Architecture: Enabling an Effective Transition, notes the shift to new energy architecture to secure sustainable and affordable energy will entail trade-offs and difficult choices for society. It also notes the path countries take to transform their energy architecture will have some common features – efficient, low-carbon and increasingly electrified systems -- but will vary according to their stage of economic development and their resource endowment.
"The scale and complexity of the energy industry calls for government, industry and civil society to be actively engaged in a dialogue and in managing the energy transition," said Arthur Hanna, managing director, Accenture Energy industry group, and member of the World Economic Forum's Global Agenda Council on New Energy Architecture. "Decisions to resolve the challenges of how energy is sourced, supplied and consumed cannot be made without a complete analysis and a baseline from which to work from."
To help decision-makers in planning and driving an effective transition and to assess their progress, Accenture and the World Economic Forum have developed an Energy Architecture Performance Index. 124 countries were assessed across three dimensions: economic growth and development, environmental security, and energy access and security, which revealed much more needs to be done to accelerate the transition to meet future demands and towards energy efficiency. The assessment shows while almost all of the countries have improved the efficiency of their energy sector, the share of non-carbon energy in the total primary energy supply is still less than 5 percent for 69 of them. A surprising number also continue to struggle to meet their citizens' basic energy needs: in 31 countries, over 50 percent of the population continues to use solid fuels for cooking purposes.
Energy Architecture Performance Index of 124 countries: Assessment based on Environmental Sustainability KPI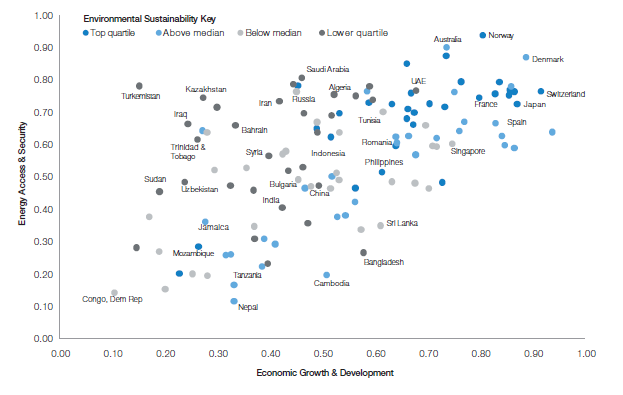 Source: New Energy Architecture: Enabling an Effective Transition
Roberto Bocca, senior director, head of energy industries, World Economic Forum, said, "Never before have we experienced such pressure for change in the way we source, supply and consume energy. Decision-makers must understand how their countries are affected by the changing dynamics and how they can effectively create desired change, as the choices they make will determine the speed, direction and cost of the transition."
To highlight the practical applications of the framework, two deep-dive country studies were completed in the report on India and Japan. The study on India underlined the challenges posed by supply bottlenecks, which present a considerable risk to the nation's future growth. The authors suggest that India consider creating a unified energy regulator to support the expansion of its renewables sector; promote the development of decentralized distribution and generation to expand energy access; and rationalize energy prices through the gradual phase-out of subsidies. The Japan study underlined the "crisis of confidence" facing its energy sector in the wake of last year's earthquake and tsunami. The report suggests that Japan consider establishing a fully independent nuclear regulatory agency; complete a full cost-benefit analysis of market liberalization in the electricity sector; and support the development of pan-Asian energy infrastructure.
About New Energy Architecture: Enabling an Effective Transition
The New Energy Architecture report benefited from the guidance and support of the World Economic Forum's Industry Partners, as well as the Global Agenda Council on New Energy Architecture, and was produced in collaboration with Accenture.
About Accenture
Accenture is a global management consulting, technology services and outsourcing company, with more than 246,000 people serving clients in more than 120 countries. Combining unparalleled experience, comprehensive capabilities across all industries and business functions, and extensive research on the world's most successful companies, Accenture collaborates with clients to help them become high-performance businesses and governments. The company generated net revenues of US$25.5 billion for the fiscal year ended Aug. 31, 2011. Its home page is www.accenture.com
# # #
Contacts:
Allen Valahu
Accenture
+ 33 1 53 23 57 54
Christine Yee Fields
Accenture
+ 216 535 5092
christine.fields@accenture.com
Source: 1International Energy Agency, World Energy Outlook, New Policies Scenario, Paris.