October 31, 2012
More U.S. Doctors Leaving Private Practice Due to Rising Costs and Technology Mandates, Accenture Report Finds
By 2013, only 36 percent of doctors are projected to remain independent while subscription-based services for patients continue to increase
ARLINGTON, Va; Oct. 31, 2012 – An increasing number of U.S. doctors are expected to leave private practice for hospital employment over the next 18 months, due to rising costs and technology mandates, according to a new report from Accenture. By the end of 2013, Accenture also estimates that one-in-three doctors remaining independent will offer patients with subscription-based services, such as telemedicine or online consultations, for sustaining profit – a trend that is expected to increase three-fold over the next three years.
Over the past decade, the number of independent U.S. physicians has dropped dramatically, from 57 percent in 2000 to 39 percent in 2012. By the end of 2013, Accenture predicts this number will likely drop further, to 36 percent, and is 3.6 percent lower than Accenture's 2011 report. The Accenture findings resulted from extensive market analysis on U.S. physician employment and a survey of 204 physicians in independent practice that was conducted in May 2012.
Among the other key findings of the survey:
The majority (87 percent) of physicians surveyed cited the cost and expense of running a business as a chief concern.
Most doctors (65 percent) joining health systems said they expect to make the same or less compensation than in private practice.
Sixty-one percent cited business operations as a main reason for seeking hospital employment rather than remaining independent.
More than half of doctors (53 percent) cited electronic medical record requirements as a main reason for leaving private practice.
"More independent physicians are offering subscription-based services as a way for patients to customize their care experience," said Kaveh Safavi, M.D., J.D., who leads Accenture's North America health industry. "Meanwhile, patients appreciate the opportunity to supplement their existing coverage with premium, subscription-based services, such as same-day appointments and online prescription refills."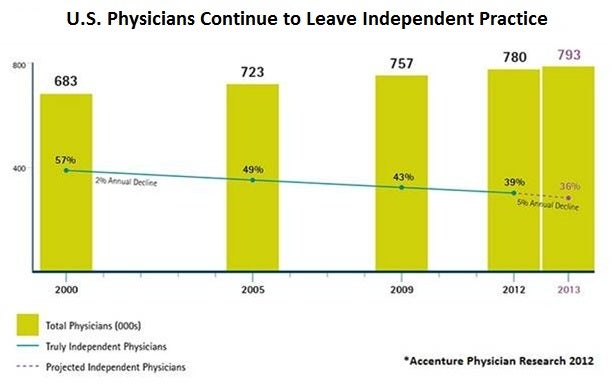 Learn more about Accenture's Insight Driven Health.
About Accenture
Accenture is a global management consulting, technology services and outsourcing company, with 257,000 people serving clients in more than 120 countries. Combining unparalleled experience, comprehensive capabilities across all industries and business functions, and extensive research on the world's most successful companies, Accenture collaborates with clients to help them become high-performance businesses and governments. The company generated net revenues of US$27.9 billion for the fiscal year ended Aug. 31, 2012. Its home page is www.accenture.com.
# # #
Contacts:
Jenn Francis
Accenture
+ 630 338 6426