November 14, 2012
Italian Companies Show Growing Commitment to Carbon Disclosure and Management But Few Set Long-Term Goals, Finds CDP and Accenture
MILAN; Nov. 14, 2012 – Italian companies have improved their level of carbon disclosure, according to a report published today by the Carbon Disclosure Project (CDP) and Accenture (NYSE: ACN), which reveals that nearly half of Italy's largest companies are disclosing their carbon and emissions performance.
Forty-six[1] of Italy's top 100 companies by market capitalization responded to the annual disclosure request by CDP, a rise from the 35 companies who responded last year and the 21 in 2010. CDP collects the information on behalf of 655 institutional investors with more than US$78 trillion in assets who use the data as part of their investment, lending and insurance analysis.
Climate change is taking on greater importance on the agendas of publicly listed companies, with an increasing number of firms (95 percent from 61 percent in 2011) reporting that they have entrusted climate-change management to their boards. The report also shows that over half of companies (58 percent) set reductions targets, which includes seven of 8 utilities respondents and 4 out of 6 from the industrials sector.
Despite this, just five firms set long-term goals to be reached by 2020. Of the total, 90 percent of the targets are set for 2015, but 40 percent of these are expected to be reached by the end of 2012.
Analysis by CDP and Accenture of a sample of 33 of the 46 companies showed that the annual savings that could be achieved from their emissions reductions targets could reach €630 million and out of the total number of emission reduction initiatives, more than half have a payback period of less than three years.
"Emissions reduction initiatives in Italy can have a satisfactory return on investment," said Diana Guzman, Director Southern Europe CDP. "However, despite the clear economic driver for action, we find that corporations are not yet defining a long term approach to carbon management which is vital for building future economic prosperity and stability."
"Italian companies have significantly improved their transparency on their emissions performance and their growing commitment to disclosure will help reduce financial risks and improve their standing with investors and insurers," said Danilo Troncarelli, of Accenture. "More importantly, better quality measurement of emissions performance will drive more advanced forms of emissions management that will positively impact the bottom line."
Italy's top performers
This year companies were all scored by IMQ, the Italian Institute for the Quality Mark, Italy's certification body and a European leader in conformity assessments. IMQ rated companies according to their climate change transparency with the best disclosers entering CDP's Carbon Disclosure Leadership Index (CDLI). Companies were also assessed according to the scale and quality of their emissions reductions and strategies, and ranked according to performance bands. The best performers enter CDP's Carbon Performance Leadership Index (CPLI). The indices are used by investors to assess corporate preparedness for national emissions regulation and to guide investment decisions.
Carbon Performance Leadership Index

Carbon Disclosure Leadership Index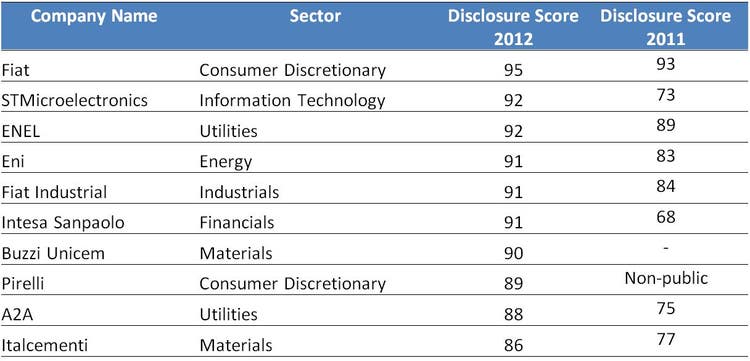 FIAT is a performance leader and also tops the CDLI with a score of 95, marking their third year of leadership.
Quality of disclosure
The top ten firms making up the Carbon Disclosure Leadership Index (CDLI) this year improved their scores by seven points. Last year the top ten came from five sectors. This year they represent seven (Consumer Goods, Energy, Finance, Materials, Industry, Information Technology, and Public Services). Twenty scored more than CDP's 'high scorer' benchmark of 70, up from 13 in 2011.
About CDP
The Carbon Disclosure Project (CDP) is an international, not-for-profit organization providing the only global system for companies and cities to measure, disclose, manage and share vital environmental information. CDP harnesses the power of market forces, including 655 institutional investors with assets of US$78 trillion, to collect information from companies on their greenhouse gas emissions and assessment of climate change and water risk and opportunity. CDP now holds the largest collection globally of primary climate change and water data and puts these insights at the heart of strategic business, investment and policy decisions. Please visit www.cdproject.net to find out more.
About Accenture
Accenture is a global management consulting, technology services and outsourcing company, with 257,000 people serving clients in more than 120 countries. Combining unparalleled experience, comprehensive capabilities across all industries and business functions, and extensive research on the world's most successful companies, Accenture collaborates with clients to help them become high-performance businesses and governments. The company generated net revenues of US$27.9 billion for the fiscal year ended Aug. 31, 2012. Its home page is www.accenture.com.
# # #
Contact:
Fabrizio Puddu
Accenture
+ 39 0277757502
[1] 46 companies responded to CDP of which 3 referred to their mother company's response. The percentages provided in this release are therefore calculated on 43 responses