April 25, 2012
Accenture Survey Finds Governments Need to Address Growing Interests of 'Digital Citizens'
Research shows broad support for digital public services in the United States
ARLINGTON, Va.; April 25, 2012 – Nearly half (44 percent) of 1,400 citizens surveyed in seven countries -- Australia, France, Germany, India, Singapore, the United States and the United Kingdom -- believe that interacting with their government is easy, and almost one-third (31 percent) say it's actually easier to access services from the government than private-sector companies, according to a new survey from Accenture (NYSE:ACN).
These same "digital citizens," however, want increased access to public services and are more inclined to use digital channels, including online and mobile resources, to conduct routine government business. In fact, more than 70 percent of the survey respondents already use the Internet for submitting and tracking government forms and payments and more than half (53 percent) say they want to use more online channels in the future.
While the overwhelming majority (70 percent) of those surveyed said they were likely to use digital services, such as websites or portals, a fair number (30 percent or more) said they were unlikely or unsure about using a range of digital channels for public services. And, one-third said they are not aware of the ways to interact with the government digitally, which provides an opportunity for governments to better communicate the benefits of digital channels to citizens.
"Digital citizens are empowered in ways that previous generations could only imagine," said Stephen J. Rohleder, group chief executive, who leads Accenture's global Health & Public Service business. "They can initiate and dictate the dynamics of citizen-to-government relationships with a tweet, blog post or Facebook message sent to hundreds of people from their smart phone. And high performing governments are working now to reshape the way they deliver public services to meet the new demands of their citizens."
Rohleder said that governments around the world face a new reality of citizen expectations and need to shift the ways they deliver public services. This "digital citizen" survey is one in a series of research studies Accenture is developing to analyze key issues and trends that affect delivering "Public Services of the Future."
U.S. Findings
Key findings among U.S citizens surveyed:
Three-fourths (75 percent) of U.S. respondents routinely use websites and portals to access government services. (Of the other countries surveyed, only Singapore had a higher percentage of citizens using digital channels to access government services – 82 percent.
Only 40 percent of Americans surveyed said they currently use government websites that are available on mobile devices or mobile apps.
Sixty percent said they would not use social media to contact a government official to request a service or resolve a problem.
However, 71 percent of survey participants said they would accept renewal alerts for documents and licenses electronically and 65 percent would be willing to have emergency broadcast alerts sent electronically or digitally.
Although 57 percent would like the U.S. government to be more integrated to better share information across different agencies, 30 percent do not want the government to have access to all their personal data.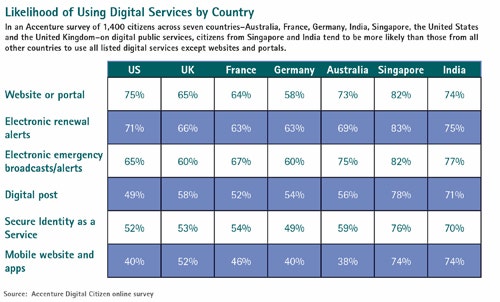 (full image)Country Comparisons
Citizens in Singapore and India are more likely than those from all other countries surveyed to use digital services. Nearly three-quarters of respondents in both countries said they would be willing to access government websites on mobile devices and apps.
German citizens (45 percent) are less likely to prefer more government integration, such as a greater sharing of information across agencies, than their counterparts from France (63 percent), the United States (57 percent) or the United Kingdom (58 percent).
Sixty percent of U.S. citizens and 65 percent of Australians surveyed said they would not use social media to contact a government official, but nearly 70 percent of respondents in Singapore and India would.
While 63 percent of those surveyed believe digital interactions make the government more easily accessible, when it comes to what matters most – resolving problems – they prefer human contact. A phone call or face-to-face meeting is preferred by almost three-quarters (73 percent) of respondents.
Allowing government to have access to personal data is a top concern for about one-third of citizens in Australia (31 percent), France (30 percent), Singapore (31 percent), the United Kingdom (30 percent) and the United States (29 percent). Nearly half of those surveyed in Germany (48 percent) identified this as the biggest barrier to digital public services.
Methodology
The digital citizen online survey included more than 1,400 respondents across seven countries, with 200 respondents each from Australia, France, Germany, India, Singapore, the United Kingdom and the United States. Forty-one percent of respondents live in urban areas, 33 percent reside in suburban areas and 26 percent live in rural areas or small towns. Sixty-seven percent of those completing the online survey were between 18 years and 45 years of age when the survey was conducted by Market Connections in November 2011.
Learn more about Accenture's work with governments delivering Public Service for the Future
About Accenture
Accenture is a global management consulting, technology services and outsourcing company, with more than 246,000 people serving clients in more than 120 countries. Combining unparalleled experience, comprehensive capabilities across all industries and business functions, and extensive research on the world's most successful companies, Accenture collaborates with clients to help them become high-performance businesses and governments. The company generated net reviews of US $25.5 billion for the fiscal year ended Aug. 31, 2011. Its home page is www.accenture.com.
# # #
Contact:
Joanne Veto
Accenture
+ 703 963 4212 (mobile)