January 19, 2012
Accenture and NTT DOCOMO to Offer
Remote Testing for Smartphone Content Providers
— New center focused on helping reduce development burden through
remote operational verification of smartphones —
TOKYO; Jan. 19, 2012 – Accenture (NYSE: ACN) and NTT DOCOMO, Inc. (NYSE: DCM, LSE: NDCM) today announced that in late March 2012, the two companies will begin offering to DOCOMO-affiliated content providers a remote, self-verification operational testing service for content (e.g. applications) developed for smartphones. The service will then be expanded to the broader smartphone market in Japan.
As part of the agreement, Accenture will establish and operate a remote test center at the University of Aizu in Fukushima Prefecture. Through the center, NTT DOCOMO will provide information on the devices, including the latest models, and a working network environment for the operational testing of software on the devices.
Currently, content providers must purchase the devices themselves in order to test their content under development for debugging purposes. But with the rapid introduction of a wide variety of smartphones and tablets (with different screen sizes, operating system versions, etc.), the cost of development, including the cost of purchasing the actual devices, has become a heavy burden for the developers.
The services provided by Accenture and DOCOMO are expected to deliver significant cost savings and contribute to the development of higher-quality content for smartphones by providing a more rapid and efficient development environment. DOCOMO's "dmenu™", a portal site for smartphone entertainment and services, will contain many examples of content developed in this new environment.
"By combining NTT DOCOMO's information on the latest devices and its working network environment with Accenture's remote test capabilities, we are confident the service will significantly reduce some of the issues that content providers face in dealing with the rapid growth of smartphone platforms," said Arata Shimizu, a senior executive in Accenture's Management Consulting growth platform. "Together with NTT DOCOMO, we hope to accelerate the production of advanced content for the Japanese market."
Yoshikazu Kumagai, Managing Director of Content Promotion Office, Smart Communication Services Department, NTT DOCOMO, said, "Through the remote test center, we will help our content providers develop quality deliverables for their end-users which will have a positive impact on the industry. We're proud to undertake this important endeavor side-by-side with Accenture."
The establishment of the test center represents the first phase of an initiative based in Aizu Wakamatasu City, which was launched by the city, the University of Aizu and Accenture in August 2011, to promote industry development and employment creation in Fukushima Prefecture.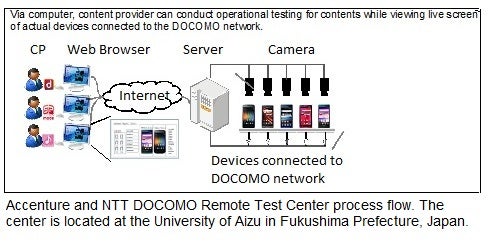 About Accenture
Accenture is a global management consulting, technology services and outsourcing company, with more than 244,000 people serving clients in more than 120 countries. Combining unparalleled experience, comprehensive capabilities across all industries and business functions, and extensive research on the world's most successful companies, Accenture collaborates with clients to help them become high-performance businesses and governments. The company generated net revenues of US$25.5 billion for the fiscal year ended Aug. 31, 2011. Its home page is www.accenture.com.
About NTT DOCOMO
NTT DOCOMO is a world-leading mobile operator that is in transition into an Integrated Service Company placing mobility at the core. The company serves over 59 million customers in Japan via advanced wireless networks, including a nationwide 3G network and one of the world's first commercial LTE networks. Leveraging its unique capabilities as a mobile operator, DOCOMO is a leading developer of cutting-edge technologies for NFC mobile payments, mobile GPS, mobile TV, intuitive mobile assistance, environmental monitoring, smart grids and much more. Overseas, the company provides technical and operational expertise to eight mobile operators and other partner companies. NTT DOCOMO is listed on the Tokyo (9437), London (NDCM) and New York (DCM) stock exchanges. Please visit www.nttdocomo.com for more information.
# # #
Media Contact:
Ken Kanda
Accenture
TEL: +81-45-330-7377
FAX: +81-45-330-7044
Email: kentaro.kanda@accenture.com
Eijun Tanaka or Naoko Minobe
NTT DOCOMO, INC.
TEL: +81-3-5156-1366
FAX: +81-3-5501-3408
Email: contact@nttdocomo.com