June 13, 2011
Physician Employment Trends Will Force Payers, Hospitals and Vendors to Revise Business Strategies, According to Accenture Survey
By 2013, less than one-third of physicians are expected to remain in private practice
NEW YORK; June 13,2011 – U.S. physicians continue to sell their private practices and seek employment with healthcare systems, according to a new survey from Accenture (NYSE:ACN). As physicians migrate from private practice to larger health systems, the new landscape will require healthcare IT, medical devicemanufacturers, pharmaceutical companies and payers to revise their business models and offerings. At the same time, hospitals will need to determine how to retain and recruit the correct mix of physicians, especially in high-growth service lines, including cardiovascular care, orthopedics, cancer care and radiology. Patients will increasingly move to large health systems, as opposed to the current trend of visiting doctors in private, small practice settings.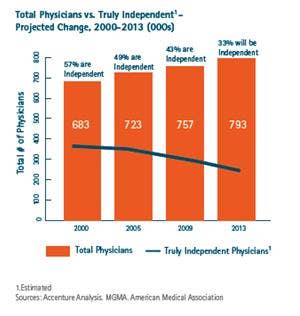 According to Accenture, the rate of independent physicians being employed by health systems will grow by an annual five percent over three years. By 2013, less than one-third of physicians are expected to remain truly independent.
"Health reform is challenging the entire system to deliver improved care through insight driven health," said Kristin Ficery, senior executive, Accenture Health. "We see an increasing number of physicians leaving private practice to join hospital systems, which will force all stakeholders to revise and refine their business models, product offerings and service strategies."
According to the survey, physicians are increasingly attracted to the benefits offered by hospital-based employment opportunities. These benefits include:
· Relief from administrative responsibilities;
· Greater access to leading-edge healthcare IT tools, facilities and equipment;
· A more manageable work week; and
· Stability in a business environment made uncertain by developments such as payment reforms.
Accenture's analysis suggests that complexities in the changing healthcare landscape may result in:
· Hospitals enhancing expertise and boosting patient volumes and revenues in high-growth service lines;
· Companies serving diverse markets will shift their sales force structure from national to regional;
· Payers encountering greater negotiating leverage, which must be factored into future business strategies, as physicians increasingly associate with larger groups and healthcare systems; and
· Companies working to reach the physician market will find their efforts more challenging.
Survey Methodology
Accenture's Physician Employment Report includes highlights from a survey and assessment of physicians and hospitals and business behaviors emerging from healthcare reform. The report highlights the impact to physician employment, care delivery and clinical coordination, which is relevant to policy makers, health systems and patient advocates. Accenture held in-person and phone interviews with c-suite hospital executives and industry stakeholdersbetween September to November 2010 and the analysis completed in 2011.
Learn more about Accenture Health.
About Accenture
Accenture is a global management consulting, technology services and outsourcing company, with more than 215,000 people serving clients in more than 120 countries. Combining unparalleled experience, comprehensive capabilities across all industries and business functions, and extensive research on the world's most successful companies, Accenture collaborates with clients to help them become high-performance businesses and governments. The company generated net revenues of US$21.6 billion for the fiscal year ended Aug. 31, 2010. Its home page is www.accenture.com.
# # #
Contact: Jenn Francis
630-338-6426