July 26, 2011
Health Insurers Need to Improve Customer Relationships to Compete, says Accenture Survey
80 percent expect customer services to be easier, more convenient
RESTON, Va; July 26, 2011 — Nearly 50 percent of health customers are willing to pay more for quality customer service — a factor U.S. health insurers need to address to effectively compete for new clients — according to a new survey from Accenture (NYSE: ACN).
Accenture conducted a survey of 1,000 insured individuals to assess the impact of customer service on consumer preferences and found that nearly 80 percent expect customer services to be easier, more convenient.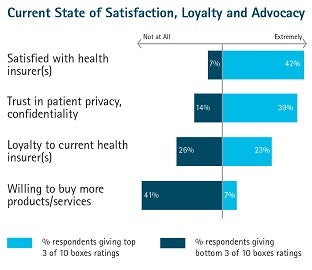 The survey also found that 42 percent of customers had high satisfaction levels while only 7 percent were dissatisfied. Health insurers, however, have not translated customer satisfaction into revenue opportunities, as Accenture found that very few (7 percent) would consider purchasing additional services.
These findings are timely due to increasing demand for consumer-directed healthcare and the additional 40 million new health insurance customers expected due to health reform[1].
Health insurers have failed to provide the personalized experience customers crave from health IT investments, according to Accenture. Only 10 percent of customers agreed that health insurers "tailor my experience to match my needs/preferences," while more than twice that amount (22 percent) strongly disagreed.
"We expect more personalized customer service to emerge as a major source of healthcare differentiation, much like other industries today," said Russ Nash, who leads Accenture's U.S. payer business. "The health insurance industry must use insight driven health to better understand the expectations of its unique customer segments and how to enhanced customer relationships to impact revenue growth."
The survey also determined that health insurers are not keeping pace with rising customer expectations. Among all five of the areas customers rated most important, the gap between customer expectations and insurer performance was significant, as much as 50 percentage points, in some cases:
Among the five characteristics that customers rated most important:
· Knowledgeable Representatives – Roughly 85 percent rated interaction with knowledgeable employees as highly important, yet fewer than 50 percent were satisfied with current experience.
· Convenient Service Hours – Nearly 80 percent prefer customer service being extended to weekend and evening hours, while fewer than half currently experience this convenience.
· Wait Time – About 80 percent rate wait time as important, but more than 60 percent said they are kept waiting too long by current health plan providers.
· Single Contact – More than 80 percent said dealing with one contact to resolve issues is important, but 60 percent are currently transferred to multiple contacts to resolve issues.
Methodology
The survey was conducted to understand how U.S. health insurers perform in customer service. The report titled, "Seven Secrets Your Health Insurance Customers Are Not Telling You" is based on a survey of 1,000 insured individuals between late December 2010 and early January 2011.
Learn more about Accenture Health
About Accenture
Accenture is a global management consulting, technology services and outsourcing company, with more than 223,000 people serving clients in more than 120 countries. Combining unparalleled experience, comprehensive capabilities across all industries and business functions, and extensive research on the world's most successful companies, Accenture collaborates with clients to help them become high-performance businesses and governments. The company generated net revenues of US $21.6 billion for the fiscal year ended Aug. 31, 2010. Its home page is http://www.accenture.com.
Contact:

Jenn Francis
Accenture
630-338-6426
jennifer.francis@accenture.com
###
[1]The Patient and Affordable Care Act is expected to add 40 million newly insured customers