July 18, 2011
Accenture to Deliver Automated Border Control Systems at Schiphol Airport in Amsterdam
Biometrics to enable automated border control systems to increase security, drive efficiency and improve traveler experience
AMSTERDAM; July 18, 2011 – Accenture (NYSE: ACN) has been selected by the Ministry of Internal Affairs to design and deliver Automated Border Control Systems (ABCS) at Schiphol airport in Amsterdam. The new systems will reduce the waiting time of travelers passing through one of the world's busiest airports during peak immigration periods by more efficiently validating passenger identities and documentation.
Accenture will initially deliver 36 electronic border-crossing gates to be used at Schiphol airport during 2011. The Automated Border Control System will use the latest in biometric technologies, including facial recognition, to validate passenger identities and passports.
Illustration: Electronic Border-Crossing Gate
Accenture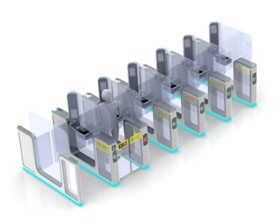 is supported on this project by subcontractors Vision-Box and Capgemini. Accenture and Vision-Box have successfully implemented similar programs across Europe to facilitate border crossings of large numbers of travelers in an easy and customer-oriented way. Accenture will work alongside Vision-Box and Capgemini to develop and implement the ABCS solution and is responsible for the on-going training, support and maintenance of the electronic border-crossing gates.
Speaking on the project, Ger Daly, managing director, Defense & Public Safety, Accenture Health & Public Service, said, "With growth in traveler numbers and increased documentation and visa complexity, border crossings around the world are now busier than ever. Accenture and our partners have extensive experience developing and introducing robust, resilient, secure and scalable electronic border-crossing systems at international airports in the United Kingdom, Finland and Portugal, and we have already overseen a successful pilot program for Schiphol."
About Accenture
Accenture is a global management consulting, technology services and outsourcing company, with more than 223,000 people serving clients in more than 120 countries. Combining unparalleled experience, comprehensive capabilities across all industries and business functions, and extensive research on the world's most successful companies, Accenture collaborates with clients to help them become high-performance businesses and governments. The company generated net revenues of US$21.6 billion for the fiscal year ended Aug. 31, 2010. Its home page is www.accenture.com
Contact: Joe Doyle
Accenture
(M) +353 (87) 2507583